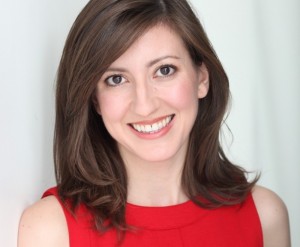 Erin recently returned from her Opera Fayetteville debut singing the role of Beatrice in Jake Heggie's Three Decembers. Although on first impression she can be pegged as a textbook ingénue soprano, often in her performances Erin also reveals a flair for quirky comedic roles like Miss Pinkerton, the frantic nosy neighbor in The Old Maid and the Thief and gypsy sidekick Mercédès in Carmen, while bringing an extra dimension to her interpretation of ingénue roles like Susanna in The Marriage of Figaro and Serafina in Il Campanello di Notte.
Erin's career has given her the opportunity to work with a number of companies so far including  Dicapo Opera, Hubbard Hall Opera, Chelsea Opera, Garden State Opera, Eastern Opera of New Jersey, Liederkranz Opera, Opera Vivente and Opera Manhattan. As a fellowship artist with Hubbard Hall Opera, Erin performed the role of Miss Pinkerton in The Old Maid and the Thief, and as The Countess Ceprano in Rigoletto, drawing attention from berkshirefinearts.com for her "clear soprano and expressive acting." Her performance as the Dew Fairy in Hansel and Gretel with Opera Manhattan was described as "evanescent and beautifully sung as well as gracefully danced" by the Mozart to Motorhead Radio Show.
Erin is also an active concert and oratorio soloist. As an Artist in Residence with the Canton Symphony Orchestra in Ohio, she performed various works including Bach's Jauchzett Gott and Mozart's Missa Brevis in D. Last winter Erin made her Boston debut in a staged version of Schütz's Christmas Oratorio, Weinachtshistorie, with The Weckmann Project/Musica Nuova. In the spring she was a featured soloist in concert with the Festival Orchestra under the baton of David Fryling, performing the Fauré Requiem and Stanford Magnificat in G at the Princeton University Chapel in New Jersey. She more recently made her overseas soloist debut on a concert tour in the UK over the summer with combined choirs from New York and New Jersey with concerts in London, Bath, Oxford and York, culminating in a performance of the Stanford Magnificat and Mozart's Laudate Dominum at Howard Castle.
An enthusiastic performer of contemporary and new music, Erin has appeared as the Mad Mermaid, one of three split personalities in Ophelia Forever, a chamber opera examining the tragic character from Shakespeare's Hamlet by the award-winning composer Amy Beth Kirsten and in premiere performances of new chamber music compositions as part of the Rhymes with Opera summer workshop at the National Opera Center in New York. When covering the role of Diana in Henry Mollicone's Emperor Norton, she had the opportunity to work directly with the composer and perform in an open dress format.  Erin had the good fortune to be a part of the well-received World Premiere production of Stefania de Kenessey's new opera, Bonfire of the Vanities, based on Tom Wolfe's classic novel. This spring she joined two colleagues in concert to premiere a new song cycle by Michael Leibowitz using the poetry of Megan Kruse, first in New Jersey, and again in the fall at the 2016 Philly Fringe Arts Festival.
Erin received a bachelor's degree from New York University and a master's degree from the Peabody Conservatory in Baltimore, both in Classical Voice. Outside of music, she has a great enthusiasm for critically acclaimed horror movies, afternoon tea, point-and-click computer/video games, public radio, unfashionably 90s dance moves, and The Great British Baking Show (she has a recurring nightmare in which she is a contestant, whose best efforts are met by Mary Berry's raised eyebrow as she delivers the final blow: "that icing looks a bit…informal").
REVIEWS
"…rousing vocalist had dynamic operatic range, reach, and a quietly theatrical éclat."
-Broad Street Review (Art Song Concert Soloist, Philly Fringe Festival)
"Soprano Erin Brittain shone in Berta's aria, lamenting her character's loneliness. She has a fine clear tone and an expressive manner."
–vocedimeche.reviews (Berta, Il barbiere di Siviglia)
"Erin Brittain…sings the role of the Countess in Rigoletto with a clear soprano and expressive acting"
-berkshirefinearts.com (Countess Ceprano, Rigoletto)
"Her Dew Fairy was suitably evanescent and beautifully sung as well as gracefully danced" Mozart to Motorhead Radio Show
-(Sandman/Dew Fairy, Hansel and Gretel)
"[She] showed good command of her alternately fragmented and lyrical part, incorporating the hissing of the text with disarming, rapid movements of her eyes."
– Opera News (The Bat, L'enfant et les sortilèges)